A registered member of The Osteopathic Council of Ireland (OCI). All of the major health insurance companies including VHI, Aviva, Laya Healthcare, GloHealth and St. Paul's Garda Medical Aid cover Osteopathy. The amount of cover depends on your individual policy. Please check with your health insurance provider to see how much you can claim.
Irish Enterprise Awards 2022: Winner of "Best Back Pain Specialist"
Irish Enterprise Awards 2023: Winner of "Best Spinal Rehabilitation Clinic"
CONDITIONS TREATED INCLUDE: Back/Neck Pain, Neck, Shoulder & Arm Dysfunctions, Bulging, Herniated Disc/Sciatica, Low Back Arthritis/Rheumatism, Sacroiliac Joint/Pelvic Dysfunctions, Hip, Knee, Ankle & Foot Problems.
TREATMENTS OFFERED INCLUDE: Structural & Visceral Osteopathy, Cranial & Sacral Osteopathy, Paediatric/Geriatric Osteopathy, Pregnancy Osteopathy, Sports Medicine/Medical Exercise, Neuromuscular Therapy, Sports Massage, Deep Tissue Massage, Electrotherapy, Strapping/Taping.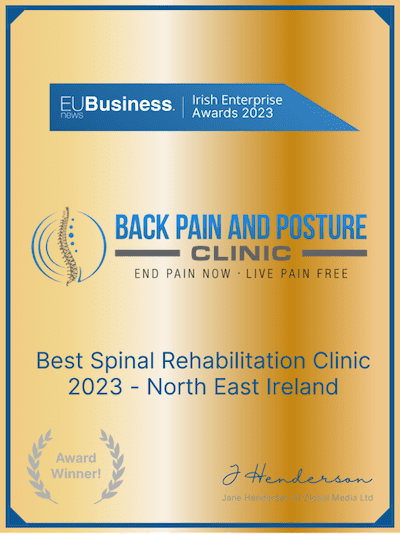 Our focus goes beyond just eliminating the pain: while treating the acute pain and stopping your pain quickly and effectively, we are actually working on correcting the issue that caused it. With the unique fusion of skills at our disposal we are very versatile in creating the condition-specific treatment protocols that are not only stopping your pain fast, but also insure your full recovery and no pain in the future.
With an easy accessible centre at the Drogheda town location, with ample parking and close to all local amenities, our clinic provides excellent service and long-lasting relief from most painful conditions.
Qualifications
To be qualified to practice osteopathy in Ireland you need to have completed a university degree. This means that osteopaths are taught using current accepted models of orthopaedic and neurologic diagnosis, thereby making it safe to treat people suffering many different complaints including back pain, headaches, disc injuries, arthritis, etc. As we are primary care practitioners you do not need a GP referral to book an appointment with us.
All osteopaths practicing in the Republic of Ireland have completed or met the following criteria:
An honours degree in Osteopathy (minimum 4 years full time, or 5-6 years part-time)
1000 hours supervised clinical tuition
Have full professional indemnity/malpractice cover equivalent to at least STG £2.5 million
Have no previous criminal convictions history
They have received training in anatomy, physiology, pathology, general medical diagnosis and techniques
Osteopathic Council of Ireland (OCI), [https://www.osteopathy.ie/], accessed April 2023